With the desire to raise awareness about Nutrition for patients before and after surgery, thereby contributing to reducing postoperative complications and shortening hospital stay, Department of Gastrointestinal Surgery, Thong Nhat Hospital and Otsuka Pharmaceutical Vietnam have organized periodic patient club activities to bring useful knowledge to attendees.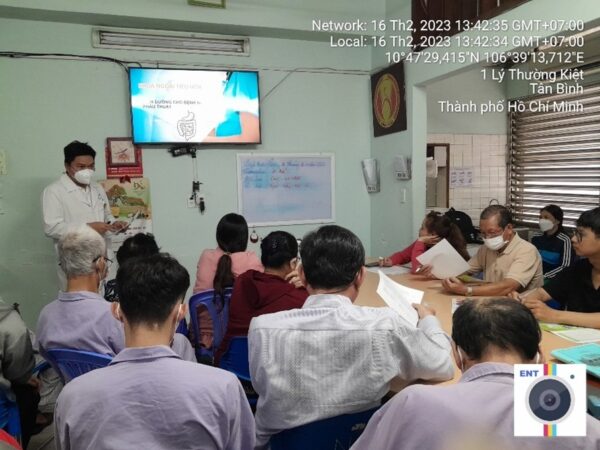 Patient club activity at Gastrointestinal Surgery Dept., Thong Nhat Hospital
The program is held once a month for the year 2023, covering many topics around nutrition for inpatient and outpatient. The first event took place on the afternoon of February 16 with the participation of more than 20 patients undergoing gastrointestinal surgery and their family members. Here, patients have learnt more about nutrition, especially protein-rich nutrition and immunonutrition before and after surgery, which plays an important role in the success of the surgery.
After listening to the speaker, the participants had a lively exchange and discussion and was enthusiastically consulted by the reporter.
Vu Loc, MD, SL1 – GI Surgery Dept., counseling for patients
The event provided patients with useful information and knowledge about nutrition before and after gastrointestinal surgery, creating a bond between medical staff, patients and family members, aiming for the best treatment effect for patients at Thong Nhat Hospital.
Patient club participants